Play Cityville To Unlock Farmville Goji Berries ! Do you remember the old limited edition crop, farmville goji berry ?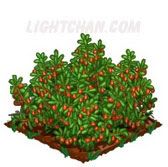 farmville goji berries
well now it's back in farmville 🙂 but.. zynga need new players to play cityville until it reach 100,000 players, here's the announcement :
Howdy Farmers! Zynga's newest game CityVille is really buzzing and if 100,000 of you play it in the next 72 hours we'll give everyone the chance to plant Goji Berries as a Limited Edition crop for awhile!
and here's the latest announcement :
Howdy Farmers! 90,000 of you have joined the fun in CityVille so far since yesterday but we're still short of our 100k goal which will mark the return of the Goji Berries crop for everyone.
Give CityVille a try!
Incoming search terms for the article:
farmville goji berry
play cityville
farmville goji berries
goji berry farmville
play city ville
goji berries farmville