Pot of Gold FarmVille ! St. Patrick's Day is coming! Place your pot of gold on your farm and fill it with gold sent by friends ! Find it in your gift box 🙂


Pot of Gold
Your friends can send you gold pieces in celebration of Patrick's Day!
Trade in the gold pieces you receive for limited edition St. Patrick's Day and Spring decorations!
yup, this pot of gold is just like the valentine's day event.
you can collect gift from your friends, they can send it via free gifts tab ( the one with clover background )
The gifts are :
Gold Bar, Gold Nugget, Gold Bear, Gold Coin, and Gold Chain
you can see how many gold you've received or gold to spend in the pot of gold 🙂


and you can redeem it with some cost of gold ! see the reedem items in pot of gold redeem prizes
For every 5 gold pieces you collect, you can post a feed on the wall by clicking "share" button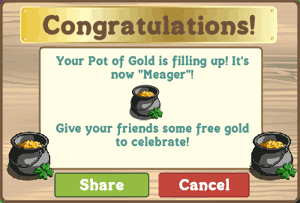 Pot of Gold – Meager
give 10 neighbors 1 free gold piece 🙂 all they need to do is click "get some gold"


collect the gold to redeem pot of gold prize 🙂
Incoming search terms for the article:
pot of gold farmville
farmville pot of gold
farmville gold nugget
farmville gold nuggets
farmville gold chunk
farmville pot
farmville pot of gold 2011
gold chunk farmville
what is the gold for in farmville
gold nugget farmville