Restaurant City Autumn Fall Themes – New Limited Dishes. New Restaurant City has been updated with many new items with fall / autumn theme and also 2 limited dishes! yeah another limited dishes since Restaurant City Corn on the Cob & Apple Pie Limited Dishes.
Autumn is a beautiful and warm coloured season. Playfish have added an array of new items to Restaurant City this week so you can bring autumn into your restaurant. And at what better time to introduce the autumn items to Restaurant City, it coincides perfectly with Thanksgiving! And also there's something new with the Arcade Machine 😛
The new limited dishes are :
Roast Turkey for Main Course
Ingredients : turkey, bread, onion, oregano
Pilgrim's Harvest for Drink
Ingredients : pumpkin, apple, ice, water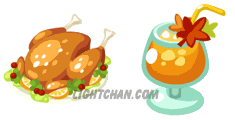 Remember Turkey is a brand new ingredient that was just introduced to the game, so you need to go and do some ingredient hunting. Good Luck! (more information about turkey you can see it in restaurant city turkey)
You can unlock both these dishes until Midnight December 1st. If you have not unlocked the dishes before that time, the dishes will dissapear from your menu, so you need to hurry and collect those ingredients.
Once you have unlocked any of the two dishes, you can upgrade them to a level higher than level 1 at any time. You can upgrade them also after the limited time period, but you need to remember to learn the dish you want to keep in your menu. If you haven´t learned the dishes (got them to at least level 1) before the period is over, they will dissapear from your menu, however you may be able to buy these recipes in future.
For the inside of your restaurant we have all you need to create that perfect Autumn Restaurant. The Bunch of Leaves is a functional item, it creates leafy footprints for all your customers! Note also the new Pet Society Claw Machine – this is also a functional item and it will make you money, 1 coin for each customer that uses it.
No theme is complete without a matching restaurant front, so we have also added items for your building! The Stack of leaves is a functional item, it will blow leaves around your restaurant, pure magic!
Incoming search terms for the article:
restaurant city themes
restaurant city autumn leaves
autumn leaves restaurant city
autumn themed dinnerware