Restaurant City Gourmet Street. As you know since the last update the gourmet street is available again 🙂 you can see many restaurant in the gourmet street.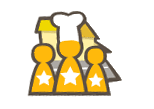 but now the gourmet street restaurant city system is different, the restaurant in gourmet street is not ranked based on Gourmet Points anymore 😛
How do I get onto Gourmet Street in restaurant city ?
To make your restaurant to Gourmet Street you need at least 20 ratings, and to be one of the top rated restaurants in the game!
You can check your exact current rating and number of ratings you've received by hovering your cursor over the stars in your restaurant (assuming you've joined Gourmet Club), so you'll know just what you need to get to make it!
If you want o know about ratings in restaurant city, like how to rate a restaurant. Please see restaurant city ratings.
Incoming search terms for the article:
restaurant city gourmet street
gourmet street
gourmet street restaurant city
restaurant city how to get on gourmet street
how to get on gourmet street on restaurant city
restaurant city gourmet street requirements
how do you get on gourmet street in restaurant city
gourmet street in restaurant city
gourmet street restaurant city restaurants
where is gourmet street in restaurant city