A prophecy was once told about a brave sim that shall come and save us, the kingdom of simelot in sims social game of crowns missions

Rescue the sims of simelot from the evil sorcerer and get this brand new location !
It's a medieval week where you need to save the princess from evil sorcerer mouldywart !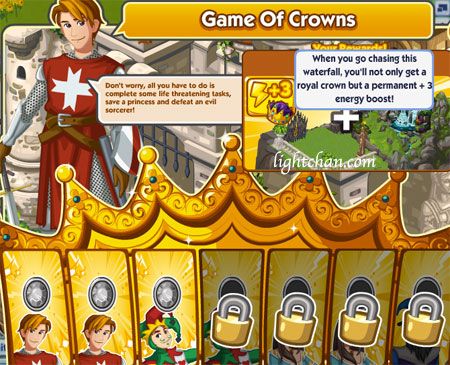 here are the list of quest :
mission 1: Sims Social One Knight Only
part 1:
Click on the Knight and ask 'Where Are We?'
Invite over a Sim or Bella and 'Show off Archery' on the Noblesse Archery Ground
part 2:
Complete first step of the Tower Of Faith
Clear 2 Chests
Ask friends for 3 Carnelians
part 3:
Complete the Tower Of Faith
Click on the Tower Of Faith and perform 'Leap Of Faith' twice
Post a feed and get 3 friends to take the leap!
part 4:
Click on the Knight and 'Collect Moonstone'
mission 2: Sims Social A Knight To Remember
part 1 :
Click on the Knight > 'I Will Prove Myself'
Click on the Noblesse Archery Ground > 'Practice Archery'
Invite Sim and > 'Be William Tell'
part 2 :
Skill up to level 5 on the Archery Range
'Click on the Noblesse Archery Ground > Light The Flame'
Post a feed and ask 3 of your friends to try and Light The Flame
part 3 :
Click on the Knight and 'Collect Sapphire'
mission 3: Sims Social Jest The Sim
part 1:
Click on the Jester and ask 'You Have The Jewels?'
Invite over a Sim or Bella and ask 'Do coconuts migrate?'
Visit Bella or a Sim, click on their bookshelf and 'Read Jokes'
part 2:
Complete the Fountain Of Four Sims project
Click on the Fountain Of Four Sims and 'Wish For Jewel' or Ask Sims for 5 Spinels
Click on the Fountain and 'Wish For Jewel' or Post a feed and ask friends for 5 Amber
part 3:
Click on the Jester and 'Collect Azure'
Incoming search terms for the article:
sims social game of crowns
game of crowns sims social