Snowball Fight Farmville ! do you see a new loading picture in farmville today ?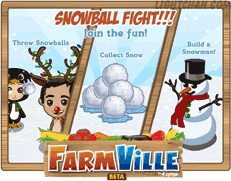 farmville snowball fight
there are 3 steps : throw snowballs, collect snow and build snowman !
if you read the podcast in farmville forum it's already explained how snowball fight works in farmville :
– Players will be able to have snowball fights by visiting friends' farms or joining other friends snowball fights.
– As you throw snowballs, you will eventually end up with a big pile of snow.
– The pile of snow can be used to build farmville snowman.
– The Snowman may even dance for you if you find the right item for it!
can't wait till it released 🙂
Incoming search terms for the article:
farmville snowball fight
how to throw snowballs in farmville
farmville snowball
how to throw a snowball in farmville
farmville throw snowball
how to throw snowballs on farmville
farmville snowballs
farmville throw snowballs
how to throw snowball in farmville
how do you throw snowballs in farmville