Spice Your Neighbors Friends Dishes Cafe World ! Help your friends cook by spicing their food for free !


Save spoiled dishes or give them extra servings instantly… get Cafe Points and coins plus a chance to find a bonus prize !
Spice your friend's dishes !
now you can help your friends cook ! Visit your friends daily to help out by adding spice to their dishes for free. Get cafe points and coins for helping. plush the chance to discover hidden prizes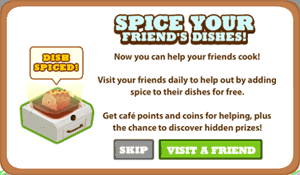 go to your neighbors cafe and choose which dish you want to put spice on


click to spice

woops… make sure you don't put spice for the ready to served dishes because you won't get any CP or coins
put spice into the dish that in process of cooking


spiced 10% servings ! +10 cafe points +40 coins !
and you will get your bonus prize 🙂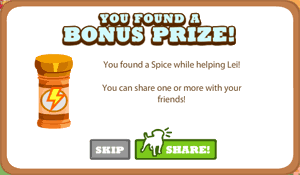 it's random spices or spice rack pack.
you can share it for your friends


salvage sage
if your friend click the bonus then they can share the spice crate that contain spices 😀

Incoming search terms for the article:
cafe world spice neighbors
cafe world spice friends dishes