Terrier Puppy FarmVille 🙂 a new puppy has arrived in the market !

This terrier is only 5000 coins for those with 15 neighbors or more !
Remember all of the breeds provide different benefits and more are on the way !
Buy this terrier dog now ! Go to the market and you can choose to purchase with 5000 coins or 65 farm cash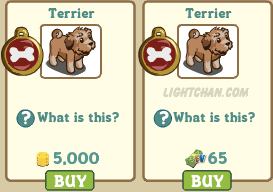 remember that the cash puppy won't run away if you don't feed them, but the coins puppy will 😛
always remember to feed the coin terrier with puppy kibble for 14 days until it grow up, if you forget then terrier puppy will run away.


farmville terrier puppy
what are the benefits from terrier puppy on farmville ?
after you feed puppy kibble for 14 days then terrier will grow up and the grown up terrier can harvest all rabbits in farmville
Incoming search terms for the article:
terrier farmville
farmville terrier
terrier in farmville
FarmVille Terrier Harvest
terrier on farmville
farmville puppy benefits
farmville puppies benefits
farmville terrier feeding
how to feed terrier in farmville
terrier puppy farmville