Thanksgiving Feast Farmville ! so far here are the the images for thanksgiving holiday basket that soon will be released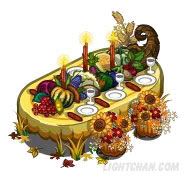 farmville thanksgiving feast
this event is slowly rolled out and you can get harvest table on farmville soon !
you can collect items and food like the one that you get from turkey roost farmville :
– fruit cake
– leaf candle
– stuffing
– casserole
– spiced cider

how to get thanksgiving dishes in farmville :
– Requesting a Dish from your neighbors directly (by clicking on the "Ask for Dishes" button).
– Receive a Dish from a neighbor who uses the Free Gifts page.
– Purchase 5 Dishes at a time by clicking on the "Buy Dishes" button (for 5 Farm Cash).
– Opening a Special Delivery Box.
– Harvesting your Turkey Roost.
collect them will make a progress with the thanksgiving feast in farmville
changes : 30 Dishes – 60 Dishes – 90 Dishes – 120 Dishes – 150 Dishes


thanksgiving table
and you will be able to redeem farmville thanksgiving feast rewards !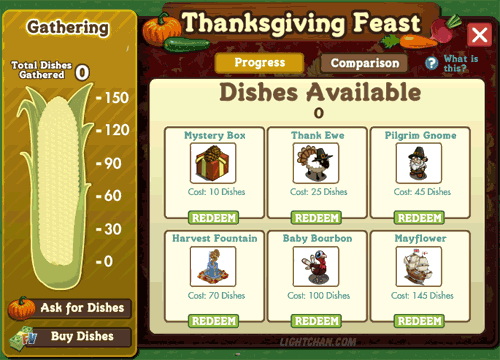 10 dishes = FarmVille Harvest Surprise / thanksgiving mystery box
25 dishes = FarmVille Thank Ewe
45 dishes = FarmVille Pilgrim Gnome
70 dishes = FarmVille Harvest Fountain
100 dishes = FarmVille Baby Bourbon
145 dishes = FarmVille Mayflower
Incoming search terms for the article:
thanksgiving feast farmville
farmville thanksgiving feast
thanksgiving feast
farmville harvest surprise
Harvest Surprise farmville
thanksgiving feast in farmville
farmville feast
farmville thanksgiving feast harvest surprise
thanksgiving feast on farmville
how to get thanksgiving feast in FarmVille