Help sophie on her search in the ville flower power missions and earn the inner light t-shirt and flower power bed !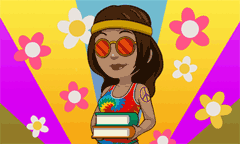 Ohmygosh ! i just met like the wisest guy ever at the farmer's market. His name is stardancer and he knows how to become one with the dream ! first thing we need is a special bed.
walkthrough guide :
quest 1: Perchance to Dream Mission
– Have a Flower Power Bed
– Plant Pink Tulips (5)
quest 2: The Inner Light Mission
– Collect Dye (10) – Ask friends directly or click on Cabinets
– Collect Thread (5) – Ask friends directly or click on Dressers
– Ask Friends for Rubber Bands (10)
quest 3: Family Ville Mission
– Put on a Tie-Dye Shirt – Found under the Clothing menu
– Collect Chrysanthemums
– Ask friends for Zen (10) – Ask or find in the garden
quest 4: The Flower Power Bed Mission
– Finish the Flower Power Bed
– Have Lava Lamps (3) – Found in Market under Living Room >> Decorations
– Collect Big Dreams – Ask friends or get from sleeping.
quest 5: Sounds of Sleep Mission
– Have an Ally Soaring V Guitar
– Have a Jam Session on the Alloy Soaring V
– Be a Super Star on the Harmoniza Karaoke Machine
quest 6: Little Sophie in Dreamland Mission
– Call over Neighbors
– Cook Margherita Pizza
– Make Flower Power Whoopie