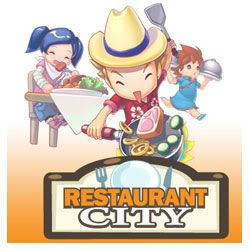 Restaurant City Tips and Tricks 🙂 Restaurant city is one of the popular game on facebook made by playfish, and so many people playing this game right now. And they always keep the game updated, so many new player keep coming 🙂
So here some tips and tricks for restaurant city :
Restaurant City Tips and Trick for Beginner / Newbie
1. Arcade only for play and decor, can't add reputation and gourment point.
2. Give drink($60) when your waiter under 80%, because it effect to works. Try to fill all energy in one time. So $60 x workers is a minimum money you should have 😛
3. Restart tabs for Restaurant City if there're a squares that tell you there's a problem. Because there's a big chance your game won't be saved.
4. If you get many popularity that means you have a big responsibility for customers.
5. Stove type/price doesn't effected your cooking speed. So buy the cheapest stove 😛
6. If you want to off, decorate your restaurant then pull out the door. So a new customer can't go in and your waiter can rest, because if you let the restaurant open, when your worker energy 0%.. the result will make your restaurant rating down 🙁
7. Now if the table already full, the customer can wait first (waiting list). Buy a chair without table and put it near door (don't put many chair, because your popularity can go down).
8. Toilets can be used by customer after you reach level 8.
9. After being used 4 times, toilet gonna be dirty. You need to clean it, there's a cleaner option in employee menu (one of your employee will be janitor).
10. Random customer will use toilet after their finished their food. If they use that toilet, you'll get thumbs up 😀


Restaurant City Tips and Trick How To Get Ingredients
1. Go to other people restaurant (only for the first time), you can get 1 random ingredient 🙂
2. You can get 1 ingredient everyday if you login to RC.
3. Every day you'll be asked for Daily Food Quiz, if you can give a right answer you'll get 1 ingredient.
4. You can trade any ingredient you need with other people of course 😛
Restaurant City Tips and Trick How To Arrange Table
Layout for a good restaurant :
Don't let the waiter walk far (time is money :P)
2 Cooks, 1 Waiter

3 Cooks, 1 Waiter

3 Cooks, 2 Waiters


(Keep the same layout, you need more chefs to handle more tables)
4 Cooks, 2 Waiters

5 Cooks, 2 Waiters
for 5 cooks 2 waiter or more you should use Island Layout

ISLAND LAYOUT

Incoming search terms for the article:
restaurant city tips
restaurant city playfish cash cheat
restaurant city
restaurant city faq
restaurant city playfish
playfish restaurant city
cheat playfish cash restaurant city
restaurant city tips and tricks
restaurant city cheat playfish cash
cheat restaurant city playfish cash