Treasure Island Zynga Facebook Game ! the treasure isle well i prefer to call it treasure island 😛 , is the newest game by zynga on facebook.

Treasure Isle on facebook
Explore the exotic locales of Treasure Isle as you hunt for lost jewels and artifacts ! Design a tropical oasis on your very own private island ! Sail to neighborin islands and unearth buried treasure to share with friends !
the game is about searching treasure on some islands, after you've finished 1 island you can go to the next island and then after you finished all the island in 1 map you can go to the next map 😀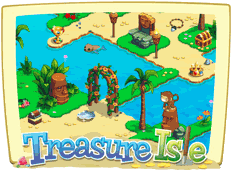 there are some feature taken from other zynga games like mafia wars and farmville :
– energy is needed for digging and will recover after some times just like mafia wars
– garden plants where you can plant some fruits and harvest them, there's also withering time just like farmville
the game is cool but if you have reached the treasure island maximum level (lv 100 for now), or finished exploring all maps on treasure isle… then you must wait for island update T__T that's the sad points
but hey, while waiting you can decorate your home island 😀 make your own tropical island and have fun with it
want to play it now ? here's the link to play treasure island / treasure isle on facebook :
http://www.facebook.com/apps/application.php?id=234860566661
for the guides you can see my how to play treasure island guide or treasure island tips and tricks 😀
Incoming search terms for the article:
Treasure island facebook
treasure island on facebook
treasure island zynga
Facebook Treasure Island
treasure island FACEBOOK GAME
treasure island game on facebook
treasure isle zynga
zynga treasure island
treasure island game facebook
treasure isle rain god