VIP Dinner Cafe World is back again 🙂 did you remember the cafe points – cp for vip dinner ?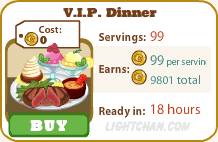 well if you don't remember you can see cafe world v.i.p dinner
So why v.i.p dinner is back in cafe world ?
the special dish is back in honor of cafe world 10 million fans 🙂 the VIP dinner is back for less than 48 hours!
It's 99 servings, paying 99 coins each, and it's FREE to cook!
to unlock vip dinner you must join cafe world email club !
If you are already a member of the email club, you'll be able to start cooking right away!
If you are not a member yet, just click the VIP dinner in the cookbook to join
remember that with v.i.p dinner you can get a lot of money in a very short time on cafe world !
note that there's actually a link glitch for free vip dinner, so you can get a free gift for vip dishes 😛
Incoming search terms for the article:
cafe world vip dinner
cafe world vip dinner link
vip dinner cafe world
vip dinner cafe world link
cafe world vip dinner links
cafe world vip dinners
vip dinner links
vip dinner link
VIP Dinners cafe world
v i p dinner cafe world