Wandering Stallion FarmVille 🙂 Watch for the wandering stallion !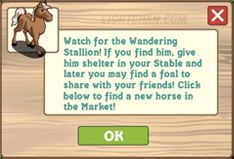 farmville wandering stallion
If you find him, give him shelter in your stable and later you may find a foal to share with your friends !
the wandering stallion is an adoptable animal, but he can only be a present on your farm when you harvest the horse stable.
So please remember that you can't keep the wandering stallion on your farm 😛 but you can have the white stallion though.
if you find a wandering stallion on your farm, you can help it then post to your wall so your other friends can 'adopt' the stallion.


xxx was farming when they found a wandering stallion ! xxx wants their friends to help the wandering stallion by giving him shelter for the night.
if somebody click 'help the stallion' and he will see this pop up

Thanks for giving the wandering stallion shelter for the night. He's sure to thank you the next time you check your horse stable !
wandering stallion icon on horse stable


Wandering stallion gives you chance to find foals depending on the color of horses in your horse stable. If foal or consumable buff is not found, then you will found coin bonus 🙂
Incoming search terms for the article:
wandering stallion
farmville wandering stallion
Wandering Stallion farmville
stallion farmville
NO Wandering stallion
farmville stallion
help the stallion
Farmville white stallion
sheltering a wandering stallion