Wild Mustang FarmVille ! New horse on farmville, mustang 🙂 now you and your friends can wrangle a Wild Mustang for your farm!


farmville mustang
how to get wild mustang on farmville ?
If you have at least 5 neighbors and have already given FarmVille permission to contact you via your email address, you'll receive this wild mustang pop up while tending to your farm:
"you've spotted a wild mustang on your farm! You need to give your email before you can try to catch it!"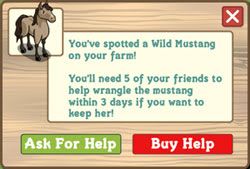 Clicking 'Ask For Help' will bring up a selection of neighbors for you to enlist in wrangling the Wild Stallion.
"You've spotted a wild mustang on your farm ! You'll need 5 of your friends to help wrangle the mustang within 3 days if you want to keep her"
In order to participate in the Wild Mustang feature, both the player asking for help and their neighbors must have already allowed FarmVille access to their email addresses. If you have not given FarmVille permission to access your email address, you'll receive the following pop-up:
"You must select a minimum of 5 neighbors and you can choose up to 15 neighbors to help."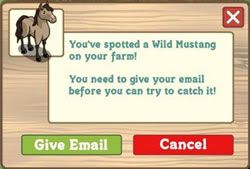 Once you are able to ask your neighbors for help, any neighbor who has not already given FarmVille permission to access their email will not appear in the list of neighbors to assist you.
Each neighbor you select will receive an email asking them to help you with your Wild Mustang. In order to tame the Mustang, you'll need a total five responses from your friends over a period of three days. Each player that responds to your email messages will count toward this total. Also each friends that responds can choose to receive a message each day that you still need help you to wrangle your Mustang.
Once you've started the process of wrangling your Wild Mustang, you can check your progress by hovering your mouse over the Wild Mustang icon in the upper-left corner of your screen.
When you receive enough responses, the next time you enter FarmVille you'll receive the following message:
"Congrats ! Your wild mustang can be found in your gift box !"

As stated, the Mustang will be waiting for you in your Gift Box. Once you place the Mustang on your Farm, you'll be able to post a feed offering a mustang foal to up 5 neighbors for 24 hours.

farmville mustang foal
If you're unable to have five neighbors help you after three days, you'll have a chance to purchase the Wild Mustang for Farm Cash. The cost is equal to 20 Farm Cash, minus the number of friends that helped you (eg. If 4 friends help you over the course of three days, your cost for the Wild Mustang is 16 Farm Cash).
You can also purchase the Wild Mustang for 20 Farm Cash when you first spot it on your Farm by clicking the 'Buy Help' button.
get this farmville wild mustang and mustang foal for your horse collection on farmville 😀
Incoming search terms for the article:
wild mustang farmville
mustang farmville
farmville mustang
farmville wild mustang
mustang horse farmville
farmville mustang horse
wild mustang horse games
mustang horse games
wild mustang in farmville
farmville mustang foal