If you have facebook account then you must know this game right ? Well Word Challenge is one of my favourite mini game, all you got to do is put any words you can make from the letters, kinda like anagram =) .
Now.. i found this program for cheating in Word Challenge, there are no game without any cheat right ? Just for fun 🙂 maybe you can show off to your friends hahaha…
First download the Word Challenge Cheat Bot, then open Word Challenge application.
write down the letters from word challenge in the bot, press generate, go back to word challenge and wait for a few seconds.. Done..
The bot should fill in any words that it find..
Just look at my account, you should see my score here =P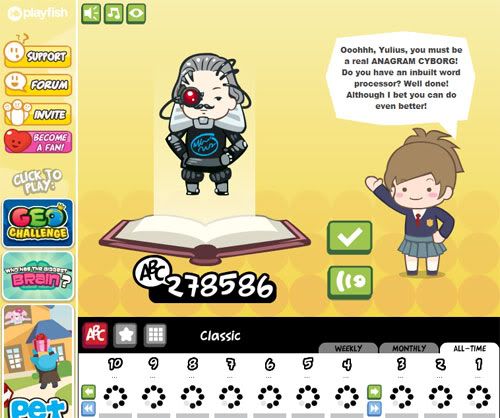 Wow.. an anagram cyborg, the person who made this already anticipate this kind of cheat 😛
just for fun okay 😀
Incoming search terms for the article:
word challenge online
word challenge cheat
word challenge cheats
city challenge cheat
city challenge facebook cheat
playfish word challenge cheat
word challenge cheat online
city challenge cheats
word challenge cheat bot
word challenge