Zynga Toolbar rockholmi.ru ? does your zynga toolbar for any game (farmville, mafia wars, frontierville, cafe world) changed to rockholmi.ru with russian language ? i think someone hacked it / glitch , because there's no official explanation from zynga.
the issue happens on both available browser (Internet explorer and firefox), this problems already reported in the forum and still no words from zynga
many players already worried if the rockholmi.ru will take the information and password from the browser, there are 2 solutions for this
disable / uninstall zynga toolbar :
for Internet Explorer:
– Go to the "Start" menu -> Control Panel -> "Add/Remove programs".
– In the list of programs, find the name of the toolbar you have installed and click on "remove".
for Mozilla Firefox :
– Open FireFox and go to "Tools"
– Select "Add-Ons"
– Select the "extensions" tab
– Find the name of your toolbar
– Press uninstall at the toolbar window
or refresh rockholmi.ru toolbar and you will see the zynga toolbar back…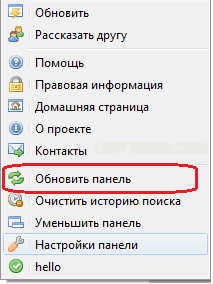 Incoming search terms for the article:
zynga toolbar
chan ru
zynga toolbar Rockholmi ru